BMW 7 Series: Sitting safely
Vehicle features and options
This chapter describes all standard, country-specific and optional features offered with the series.
It also describes features and functions that are not necessarily available in your vehicle, e.g., due to the selected options or country versions. This also applies to safety-related functions and systems.
When using these functions and systems, the applicable laws and regulations must be observed.
Sitting safely
An ideal seating position that meets the needs of the occupants can make a vital contribution to relaxed, fatigue-free driving.
In the event of an accident, the correct seating position plays an important role. Follow the information in the following chapters.
Additional information:
Seats
Safety belts
Head restraints
Airbags
Front seats
General information
The seat adjustment for the driver's seat is stored for the driver profile currently used. When a driver profile is selected, the stored position is called up automatically.
The current seat position can be stored using the memory function.
Safety information

Warning
Seat adjustments while driving can lead to unexpected movements of the seat. Vehicle control could be lost. There is a risk of accident.
Only adjust the seat on the driver's side when the vehicle is stationary.

Warning
With a backrest inclined too far to the rear, the efficacy of the safety belt can no longer be ensured.
There is a risk of sliding under the safety belt in an accident. There is a risk of injuries or danger to life. Adjust the seat prior to starting the trip. Adjust the backrest so that it is in the most upright position as possible and do not adjust again while driving.

Warning
There is a risk of jamming when moving the seats. There is a risk of injury or risk of damage to property. Make sure that the area of movement of the seat is clear prior to any adjustment.
Overview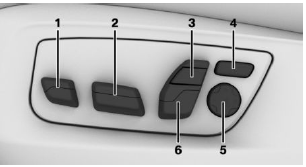 Thigh support
Forward/backward, height, seat tilt
Upper backrest
Backrest width
Lumbar support
Backrest tilt, head restraint
Forward/backward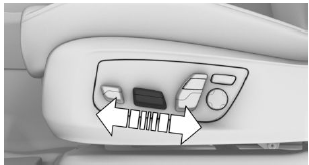 Push switch forward or backward.
Height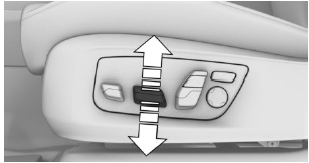 Push switch up or down
Seat tilt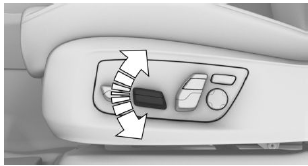 Move switch up or down.
Backrest tilt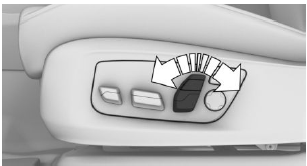 Move switch forward or backward.
Thigh support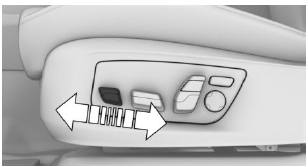 Push switch forward or backward.
READ NEXT: