BMW 7 Series: In the vicinity of the steering wheel
Vehicle features and options
This chapter describes all standard, country-specific and optional features offered with the series.
It also describes features and functions that are not necessarily available in your vehicle, e.g., due to the selected options or country versions. This also applies to safety-related functions and systems.
When using these functions and systems, the applicable laws and regulations must be observed.
In the vicinity of the steering wheel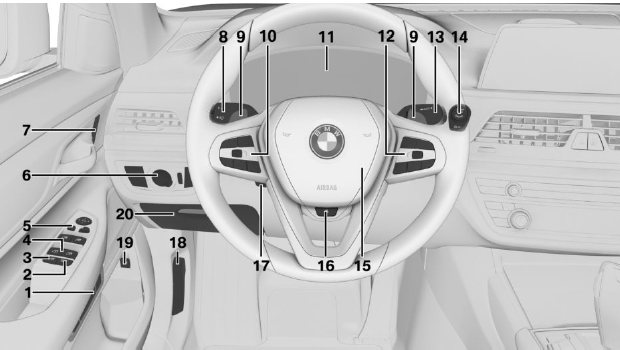 Seating comfort features

Gentleman function

Memory function

Massage function
Roller sunblind in the
rear window
Safety switch for the
windows and roller sunblinds
Power windows


Exterior mirror operation
Lights

Night Vision

Light switch

Lights off
Automatic headlight control
Daytime running lights

Parking lights

Automatic headlight control
Adaptive light functions
High-beam Assistant

Low beams

Instrument lighting

Right roadside parking light

Left roadside parking light
Central locking system

Unlocking

Locking
Steering column stalk, left

Turn signal

High beams, headlight
flasher

High-beam Assistant

Widgets in the instrument
cluster
Trip data
Shift paddles
Steering wheel buttons, left

Speed Limiter

Depending on the equipment:
Cruise control on/off

Depending on the equipment:
Active Cruise Control on/off
With steering and traffic jam
assistant

Cruise control, distance
control and lane guidance on/off

Cruise control: to store the
speed Speed Limit Assist: take over suggested speed

Pause or continue cruise
control

Active Cruise Control: increase
distance

Active Cruise Control: reduce
distance
Cruise control rocker switch
Instrument cluster
Steering wheel buttons, right

Selection lists

Volume, see Owner's Manual for
Navigation, Entertainment and Communication

Voice activation system

Telephone, see Owner's Manual
for Navigation, Entertainment and Communication
Thumbwheel for selection lists
Steering column stalk, right

Wipers

Rain sensor

Cleaning the windshield
Switching drive-ready state
on/ off

Auto Start/Stop function
Horn, entire surface


Heated steering wheel


Adjusting the steering
wheel
Unlocking the hood


Opening and closing the
trunk lid
Glove compartment
READ NEXT: