BMW 7 Series: Executive Lounge Seating
Concept
The Executive Lounge Seating function offers maximum legroom and increased traveling comfort to the rear passenger on the passenger's side.
General information
The following settings are applied automatically on system activation:
The front passenger seat moves forward and adjusts the height, if necessary.
The backrest and head restraint of the front passenger seat are inclined forward.
The tilt of the screen in the rear is adjusted to the backrest incline of the front passenger seat.
The footrest on the backrest of the front passenger seat folds out.
The backrest reclines to the back.
The adjusted end position can be manually adjusted and if required stored using the memory function.
Safety information

Warning
If the front passenger seat is set too far forward, the view of the exterior mirror on the front passenger side may be limited. There is a risk of accident. Adjust the front passenger seat such that the view on the exterior mirror is not obstructed.
Overview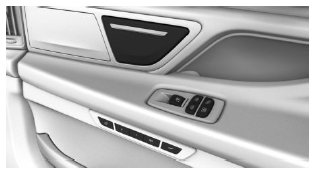 Executive Lounge Seating
Switching on

Press the button.
Resetting to standard position

Press the button to reset to
standard position.
The process is canceled if the button is pressed again.
READ NEXT: