BMW 7 Series: Safety belts- Correct use of safety belts
Wear the safety belt twist-free and tight to your body over your lap and shoulders.
Wear the safety belt deep on your hips over your lap. The safety belt may not press on your stomach.
Do not rub the safety belt against sharp edges, or guide it or jam it in across hard or fragile objects.
Avoid thick clothing.
Re-tighten the safety belt frequently upward around your upper body.
Buckling the safety belt
Guide the safety belt slowly over shoulder and hip to put it on.
Insert the tongue plate into the safety belt buckle. The safety belt buckle must engage audibly.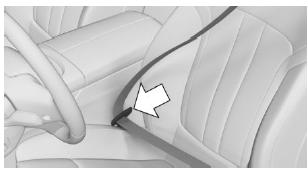 When the safety belt is fastened, the driver's and passenger's belt straps are automatically tightened once after driving away.
Unbuckling the safety belt
Hold the safety belt firmly.
Press the red button in the safety belt buckle.
Guide the safety belt back into its roll-up mechanism.
Belt loop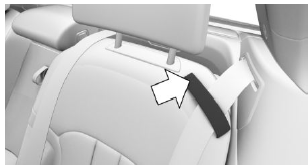 When fastening the safety belts on the rear seats, make sure that the belt loop is closed.
Safety belt reminder for driver's seat and front passenger seat
Display in the instrument cluster

The indicator light lights up
and a signal sounds. Make sure that the safety belts are positioned correctly. The safety belt reminder can also be activated if objects are placed on the front passenger seat.
Safety mode
In critical situations, for instance during an emergency stop, the front safety belts tighten automatically.
If the situation passes without an accident occurring, the belt tension relaxes.
If the belt tension does not loosen automatically, stop the vehicle and unbuckle the safety belt using the red button in the safety belt buckle. Fasten the safety belt before continuing on your trip.
READ NEXT: