BMW 7 Series: Operating concept
Vehicle features and options
This chapter describes all standard, country-specific and optional features offered with the series.
It also describes features and functions that are not necessarily available in your vehicle, e.g., due to the selected options or country versions. This also applies to safety-related functions and systems.
When using these functions and systems, the applicable laws and regulations must be observed.
Operating concept
Concept
iDrive includes a large number of functions.
These functions can be operated via the Controller and, depending on the equipment version, via touchscreen, voice activation system or gesture control.
Safety information

Warning
Operating the integrated information systems and communication devices while driving can distract from traffic. It is possible to lose control of the vehicle. There is a risk of accident. Only use the systems or devices when the traffic situation allows. As warranted, stop and use the systems and devices while the vehicle is stationary.
Input and display
Main menu
General information
The main menu is divided into two areas. The left area contains menu items that can be used to call up all the iDrive functions. The right area contains widgets that provide quick access to certain functions.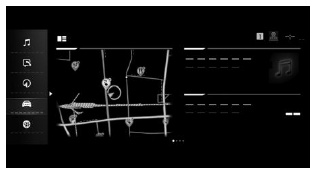 Media/Radio

All functions of the
entertainment system, e.g., radio stations or connection with external devices.
Communication

Phone and message functions,
e-mail and calendar, and also the connection and management of mobile devices, such as smartphones.
Navigation

Access to the navigation system,
destination input and traffic bulletins. Configurable map views and other functions, such as Points of Interest and areas to be avoided.
My Car

Information about vehicle status
and trips.
Access to the Integrated Owner's Manual and also administration of driver profiles and range of adjustments for vehicle and iDrive.
Apps

Management of apps, access to
apps and vehicle functions. Additional apps can be purchased from the BMW Store.
Widgets

Widgets provide quick access to
frequently used functions. The configured widgets display dynamic contents such as the navigation map, and serve as interfaces at the same time.
Letters and numbers
Letters and numbers can be selected when the destination is entered, for example.
Letters and numbers can be entered using the Controller and, depending on the equipment version, via touchscreen or voice activation system.
The keyboard's display changes automatically.
Symbol/ Function

- Change between capital and
lower-case letters.

- Enter a blank space.

- Switching between languages.

- Use voice activation.

- Confirm entry.

- Slide the input area to the
left or right.
Entry comparison
When entering names and addresses, the choice is narrowed down with every letter and number and added automatically as needed.
Entries are continuously compared with data stored in the vehicle.
Only those letters and numbers are offered during entry for which data is available.
Destination search: place names can be entered in all languages that are available in iDrive.
Activating/deactivating the functions
Several menu items are preceded by a checkbox.
The checkbox indicates whether the function is activated or deactivated. Selecting the menu item activates or deactivates the function.

Function is activated.

Function is deactivated.
READ NEXT: