BMW 7 Series: Chassis components
Vehicle features and options
This chapter describes all standard, country-specific and optional features offered with the series.
It also describes features and functions that are not necessarily available in your vehicle, e.g., due to the selected options or country versions. This also applies to safety-related functions and systems.
When using these functions and systems, the applicable laws and regulations must be observed.
Chassis components
The chassis components are optimized for the vehicle and its scope of application and thereby ensure the best possible Driving Dynamics.
Air suspension
Concept
Air suspension ensures best possible driving comfort under all load conditions. Due to a variable adjustment of the front and rear axles, the damping is adjusted to the vehicle state.
General information
In the case of an uneven road surface, the vehicle level can be elevated to increase ground clearance.
Normal level, for normal road surface.
Raised level, when the road surface is poor.
In the SPORT driving mode or at higher speeds, the vehicle lowers itself.
Safety information

Warning
Adjusting the vehicle height may result in trapped body parts or damaged vehicle parts.
There is a risk of injury or risk of damage to property. When adjusting the vehicle height, make sure that the areas of movement around the vehicle and at the wheel housing are free.
Overview
Button in the vehicle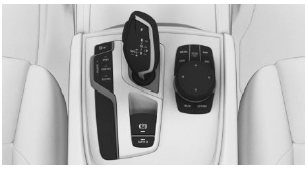 Level adjustment
Adjusting the level manually

Press the button.
In the low speed range, the vehicle is raised to the raised level with a press of the button.
Starting at a speed of approx. 20 mph/35 km/h the vehicle lowers itself automatically to the normal level.
Display
LED off: normal level.
LED flashes: level is being adjusted.
LED lit: raised level.
LED flashes rapidly: level adjustment not possible.
System limits
Wheel change
Before a wheel change, deactivate the system:

Press the button and hold for
approx.
7 seconds, until the LED flashes rapidly.
To activate system: The system is activated again automatically when you drive away.
Malfunction
A Check Control message is displayed. The system is impaired. Vehicle handling may be altered and driving comfort may be noticeably reduced.
Visit the nearest dealer's service center or another qualified service center or repair shop.
Long periods when vehicle is parked
During long periods when the vehicle is parked, it can lower itself. This is not a malfunction.
When the drive-ready state is switched on with the doors closed, the vehicle is raised to the normal level automatically.
READ NEXT: