BMW 7 Series: BMW display key- Malfunction
General information
A Check Control message is displayed.
BMW display key detection by the vehicle may malfunction under the following circumstances:
The battery of the display key is discharged.
Interference of the radio connection from transmission towers or other equipment with high transmitting power.
Shielding of the display key due to metal objects.
Interference of the radio connection from mobile phones or other electronic devices in direct proximity.
Interference of radio transmission by a charging process of mobile devices, for instance charging of a mobile phone.
Do not transport the display key together with metal objects or electronic devices.
In the case of interference, the vehicle can also be unlocked and locked from the outside with the mechanical key.
Switching on drive-ready state via emergency detection of the BMW display key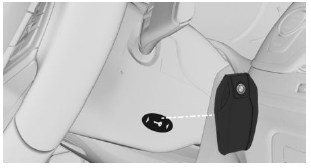 It is not possible to switch on the drive-ready state if the display key has not been detected.
Proceed as follows in this case:
Hold the display key with its back against the marked area on the steering column. Pay attention to the display in the instrument cluster.
If the display key is detected: Switch on drive-ready state within 10 seconds.
If the display key is not detected, slightly change the position of the display key and repeat the procedure.
Resetting the BMW display key
If the charged display key cannot be switched on anymore or if the display does not respond to entries anymore, the display key can be reset.
Press and hold the following buttons on the display key at the same time for at least 10 seconds until the display is switched off and then on again:
READ NEXT: