BMW 7 Series: Fuel gauge
Concept
The current fill level of the fuel tank is displayed.
General information
Vehicle tilt position may cause the display to vary.
Additional information: Refueling
Display

An arrow beside the fuel pump
symbol shows which side of the vehicle the fuel filler flap is on.
The current range is displayed as numerical value.
Indicator light in the instrument cluster

The yellow indicator light
illuminates, once the fuel reserve is reached.
Tachometer
Always avoid engine speeds in the red warning field. In this range, the fuel supply is reduced to protect the engine.
Shift point indicator
Concept
The shift lights indicate the upshift point at which the best possible acceleration can be achieved.
Functional requirement
Shift lights are shown when the SPORT driving program is activated.
Switching on/off
Select SPORT driving mode.

Press Driving Dynamics Control.

Activate the M manual mode of the transmission.
Display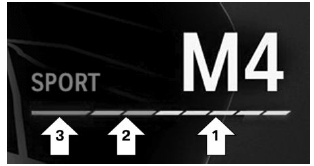 Current engine speed is displayed in the tachometer
Arrow 1: successive yellow illuminated fields indicate an increase in the speed.
Arrow 2: successive orange illuminated fields indicate the upcoming shift moment.
Arrow 3: the field lights up red. Do not wait any further to shift.
When the maximum speed is reached, the entire display flashes red and the supply of fuel is interrupted in order to protect the engine.
Standby state and driveready state

The letters OFF in the tachometer
indicate that drive-ready state is switched off and standby state is switched on.

The letters READY in the
tachometer indicate that the Auto Start/Stop function is ready to start the engine automatically.
Additional information: Operating state of the vehicle
Engine oil temperature
Additional information: Coolant level
Indicator light in the instrument cluster

A red indicator light is
displayed.
External temperature
General information
If the indicator drops to +37 ºF/+3 ºC or lower, a signal sounds.
A Check Control message is displayed.
There is an increased risk of ice on roads.
Safety information

Warning
Even at temperatures above +37 ºF/+3 ºC there can be a risk of icy roads, for instance on bridges or shady sections of the road. There is a risk of accident. Modify your driving style to the weather conditions at low temperatures.
READ NEXT: