BMW 7 Series: First-aid kit
General information
Some of the articles have a limited service life.
Check the expiration dates of the contents regularly and replace any expired items promptly.
Storage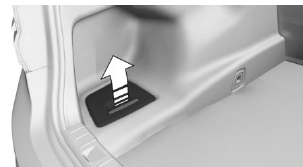 The first-aid kit is located in the left storage compartment of the cargo area.
BMW Roadside Assistance
Concept
Contact the BMW Group Roadside Assistance if assistance is needed in the event of a breakdown.
General information
In the event of a breakdown, data on the vehicle's condition is transmitted to the BMW Roadside Assistance.
There are various ways of contacting BMW Roadside Assistance.
Functional requirements
Active ConnectedDrive contract, equipment with intelligent emergency call or BMW ConnectedDrive services.
Cellular network reception.
Standby state is switched on.
Starting manually
If the vehicle is equipped with Teleservices, support is offered through Teleservice Diagnosis.
Via iDrive:
"APPS"
"Installed apps"
"BMW Assist"
If necessary, "BMW Roadside Assistance" A voice connection is established.
Teleservice Diagnosis
Teleservice Diagnosis enables the wireless transmission of detailed vehicle data that is important for vehicle diagnosis. This data is transmittedtransmitted automatically. It may be necessary to approve this on the Control Display.
Teleservice Help
Depending on the country, Teleservice Help enables an in-depth diagnosis of the vehicle by BMW Roadside Assistance via wireless transmission.
You can launch Teleservice Help by requesting it through BMW Roadside Assistance.
Park the vehicle in a safe place.
Set the parking brake.
Control Display is switched on.
Confirm Teleservice Help.
READ NEXT: