BMW 7 Series: BMW Touch Command
Concept
BMW Touch Command is a tablet that can be used to operate important vehicle functions.
General information
Depending on the equipment version, BMW Touch Command is located in the rear console or in the center armrest in the rear.
The following functions can be used:
Audio sources in the front.
Interior lighting.
Seat adjustments for front passenger seat and seats in the rear.
Sun protection.
Climate control in the rear.
Rear entertainment.
Overview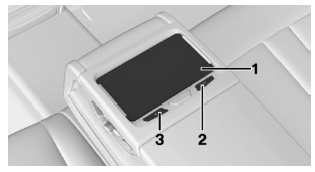 BMW Touch Command
Switching on/off
Ejecting
Operation
Buttons on BMW Touch Command
Button /Function

- Display the main menu.

- Back.
Connecting BMW Touch Command
Switch on BMW Touch Command.
The connection is established automatically.
If the connection is not established automatically, scan the QR code on the Control Display with the BMW Touch Command.
Display QR code via iDrive manually:
"COM"
"Mobile devices"
Move the Controller to the right.
"New device"
"Internet, apps", "via Wi-Fi"
Charging the rechargeable battery
BMW Touch Command can be charged in the rear center armrest.
Insert BMW Touch Command into the tray with the screen facing upward. To charge the rechargeable battery, insert BMW Touch Command with the charging socket to the left.
Selecting menu items
Tap on the symbol.


The main menu is displayed.

Select the desired menu item.
Select the desired setting.
Adjusting
Displays
Settings, such as brightness, can be entered.
Tap on the symbol.


Tap the symbol in
the status field.
"Brightness"
Slide the bar to the right or left until the desired setting is displayed.
Device information
Information about the device can be displayed in the settings:
License information.
Version.
Data protection statement.
READ NEXT: