BMW 7 Series: Airbags
Vehicle features and options
This chapter describes all standard, country-specific and optional features offered with the series.
It also describes features and functions that are not necessarily available in your vehicle, e.g., due to the selected options or country versions. This also applies to safety-related functions and systems.
When using these functions and systems, the applicable laws and regulations must be observed.
Airbags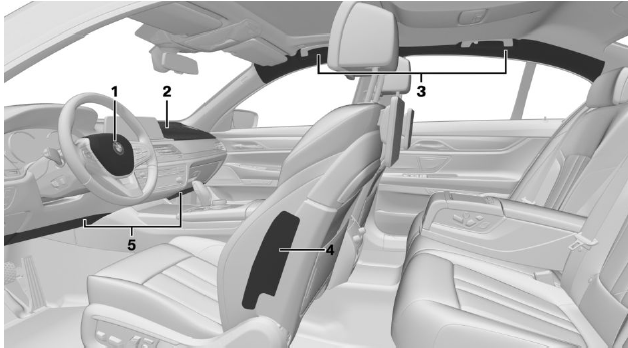 Front airbag, driver
Front airbag, front passenger
Head airbag
Side airbag
Knee airbag
Front airbags
Front airbags help protect the driver and the front passenger by responding to frontal impacts in which safety belts alone would not provide adequate protection.
Side airbag
In the event of a side impact, the side airbag protects the side of the body in the chest and lap area.
Head airbag
In the event of a side impact, the head airbag protects the head.
Ejection Mitigation
The head airbag system is designed as an ejection mitigation countermeasure to reduce the likelihood of ejections of vehicle occupants through side windows during rollovers or side impact events.
Knee airbag
The knee airbag protects the legs in the event of a frontal impact.
READ NEXT: